Tom Schneider began designing and producing bespoke furniture by hand in his artisan workshop in London. For each commission, he aimed to harness the unique, embracing curved design paired with a love of natural wood to create visually striking and beautifully formed furniture.
The Tom Shneider DNA: A symbol of our essence
Inspiration drawn from the strand of life, scuptural curvaceous form and the beauty of unembellished natural wood epitomising Tom Schneider designs.
Cutting a path for his perfectly curved designs, Tom launched his first collection in 1996. His focus on creating individual, iconic style with a strong sense of movement gives all his designs a distinctive and timeless quality – perfectly illustrated by enduring popularity of the Swirl, Serpent and DNA Collections.
Today, the Tom Schneider name has proudly become synonymous with curves and we continue to work with passion and integrity, making each piece of furniture by hand to retain our artisanal roots. While the company has grown from its tiny workshop-based beginnings, we remain a close-knit organisation of talented craftsmen and service members who work hard to ensure your stunning furniture lasts a lifetime.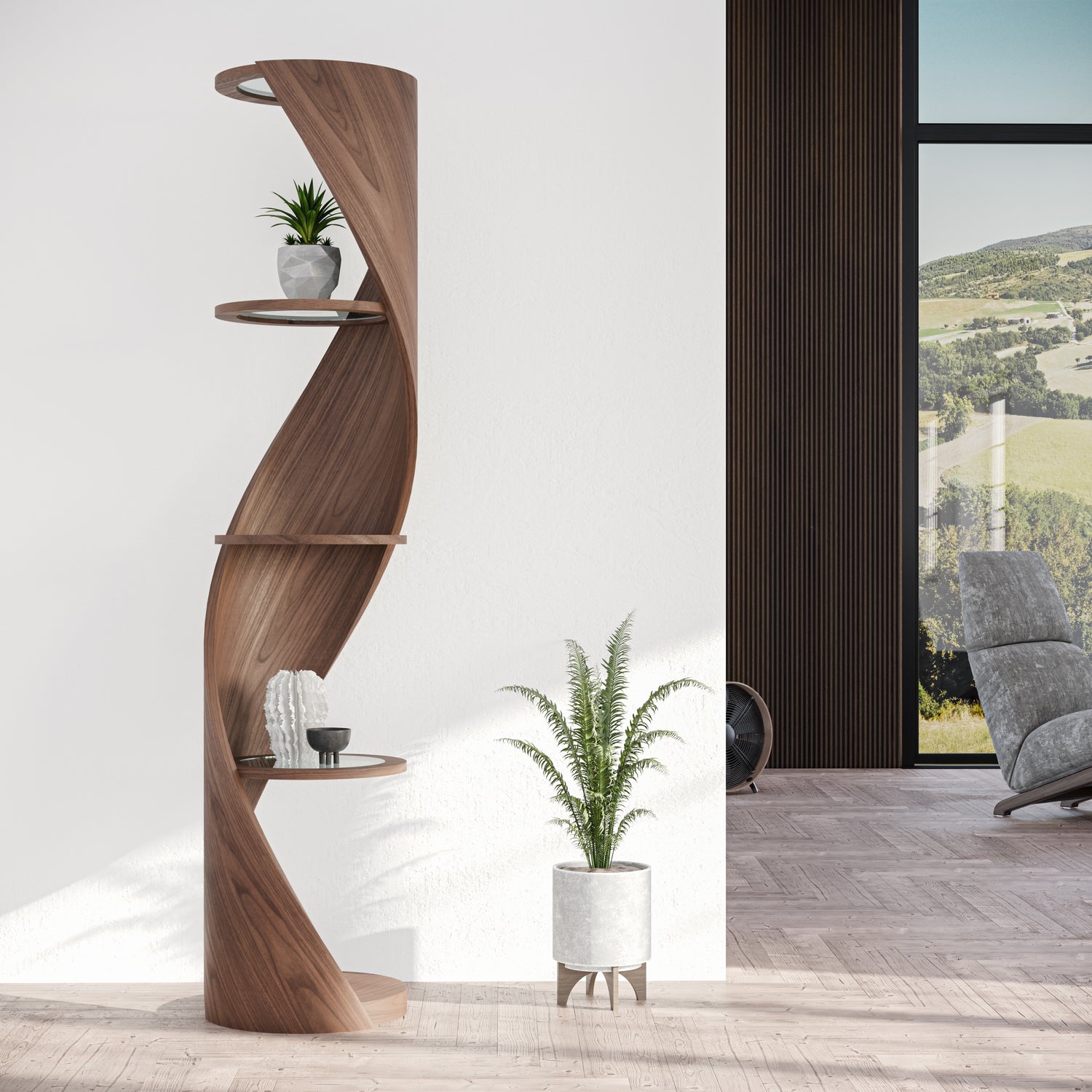 Tom Schneider On Design
We have always been driven by curiosity and a desire to stand apart with furniture that can't be found elsewhere. So we look beyond trends, turning to the beauty of nature and abstract shapes for inspiration.
For us, the beauty of a design should come from its pure form, so we're drawn to strong shapes that don't need further embellishments to shine. The gorgeous natural woods and elegant curvaceous lines are what turn furniture into contemporary classics. With each new design, we apply three core principles making each piece unique and true to the distinctive Tom Schneider style.
CURVACEOUS. TIMELESS. INIMITABLE.
Curvaceous: the hallmark of our designs, our identifying feature.
Timeless: our integral design goal – what we strive for.
Inimitable: daring to redefine traditional design to capture unequalled beauty.
Finally, we like our designs to reflect our lifestyle, so our task and what we enjoy is creating furniture that is both artistic and functional. This means designing freely without the limitations of manufacture in mind, then finding production methods to ensure the essence of each design is never compromised.
With careful consideration of the finest details and hidden extras such as soft close drawers and intuitive mechanisms, every Tom Schneider piece will fit seamlessly into your home.
Tom Schneider continues to produce beautifully crafted modern furniture.
Unusual but highly accessible pieces... all the ingredients of a design classic.
Your home will ooze good taste. The swirl table is a modern classic.
Schneider's new ways of bending wood have reinvigorated the craft.
Britain's most wanted. Furniture you'd kill for!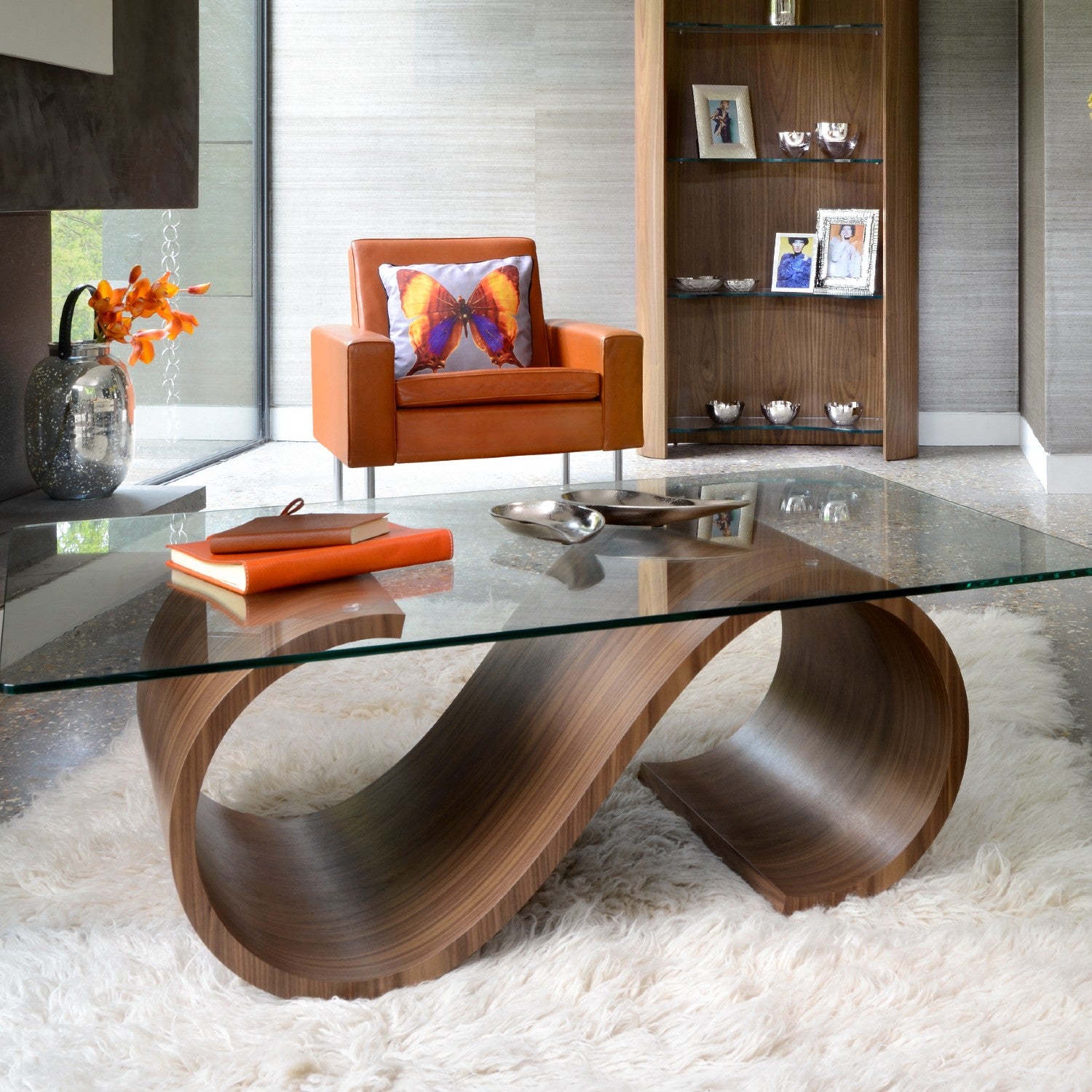 Tom Schneider On Craftsmanship
Unique to the furniture industry, Tom's progressive designs and unconventional shapes meant he also had to create the production methods to bring his design to life. Each collection and every design requires its own approach, so there is no large-scale machinery in our workshop; instead we use jigs and formers to coax the wood by hand into the curved shapes we're renowned for. Our team of technicians and master craftsmen continue to uphold our tradition of superior quality through clever construction and beautiful finishing. Maintaining our reputation for excellence is a priority, each item of furniture goes through a rigorous quality control checks at each stage of production before taking its place in your home. The confidence we hold in our craftsmanship means we can offer a 10-year extended guarantee for all Tom Schneider furniture. Registering is free and simple though we don't think you'll even need to use it.
It's more than I hoped for! An absolute perfect piece of furniture in every way. Couldn't be more delighted in the design and quality of material and work. Thank you.
Just a note to say that the 6 chairs look terrific around our table. We are really pleased with the appearance and functionality of the chairs. They fit into the space well and aesthetically they are a joy. Thank you, Tom. It is so rewarding to get this result after our design meetings, discussions and exchanges of ideas.
I'm absolutely thrilled with my Tom Schneider unit. It's a beautiful piece of furniture— beautiful wood and beautifully designed and crafted. It's exceeded my expectations in every way. Thank you so much
My new tables are simply beautiful. Extremely well made. Ordering, delivery and after care has been exemplary.
Just to let you know the furniture is really beautiful and also how professional you were as a company, from when I ordered, through to delivery even in these difficult times so hat's off to Tom Schneider .
This is a really beautiful piece which is as much a work of art as a functional piece of furniture. We couldn't be happier with our purchase. The ordering process was very simple and communication re delivery dates etc was very good. Would highly recommend.
If you appreciate great quality and style from a company who also provides great customer service, look no further. We just purchase the TV stand …..fantastic, so pleased to have found it and to have dealt with such good : ) professional people.
So stylish, so well made. Wanted it to be a feature and it certainly is. You can tell its a luxury piece of furniture. Beautiful. Fully recommend.
The furniture is fantastic and even better quality and finish then we anticipated. The delivery was easy and they guys were very polite.
Amazing service and beautiful furniture from Tom Schneider; my TV unit has attracted many compliments and envious glances since it arrived! The company were extremely professional and friendly, offering lots of advice and support with a personal touch. I couldn't recommend them highly enough!
TV stand is beautifully designed. Nothing came close to it when comparing against others. Design and finishing excellent. Just what i was looking for. You need items of beauty in your room especially if you want them to be there for a while.
Very elegant addition to my sitting room. The quality is fantastic and the service was excellent. Delivered on time and very polite delivery men. It has been admired by many family members and I am really thrilled with it.
The buying experience with Tom Schneider has been outstanding. Not only does Tom Schneider design and make beautiful, timeless furniture, they back it up with excellent and timely follow-up service.
Absolutely delighted by this piece of craftsmanship... its stunning. The team are absolutely brilliant, quick, responsive, helpful, polite and effective. Delivery was perfect, great team, polite and courteous, neat and tidy... 10/10 on all counts, highly recommended, worth every penny! We had a difficult space and the curves on this solved the issue nicely…
We absolutely could not be more delighted with the table. It's a beautiful piece of furniture which makes me smile when I use it. Your men were courteous, respectful of property and did exactly what they said they would. I have saved up for ages for this table and am over the moon with it!
We love our new coffee table which we bought to match the tv unit , beautiful classy furniture, thank you